A Detailed Review of Aghaz Invest – IslamicFinanceGuru
We've written extensively on how we think robo-advisors are a great solution for the passive Muslim investor. Now another Islamic robo-advisor has entered the fray with intentions of shaking things up.
Enter Aghaz Invest. We've previously done a podcast with their founder which you can listen to here. In this article however, we will be proving an in-depth review of their offering as well as commenting on how they stack up against the competition.
Here's what we will cover:
What does Aghaz invest in?
What the onboarding and user experience was like
What sort of returns can you expect?
How it compares against other options
Pros and Cons
Verdict
What does Aghaz invest in?
Aghaz's portfolios contain a variety of asset classes which we summarise below.
US Equities:
Approximately 20 halal large cap stocks determined for optimal risk/return
SP Funds S&P 500 Sharia Industry Exclusions ETF (SPUS)
Halal US REITs:
3-5 sharia compliant REITs
Sukuk:
SP Funds Dow Jones Global Sukuk ETF (SPSK)
Precious Metal Commodities:
SPDR Gold Shares ETF (GLD)
Aberdeen Standard Physical Palladium Shares ETF (PALL)
These asset classes will give you a rounded investment portfolio. You have your exposure to stocks and shares through 1 and 2.
3 – Real Estate Investment Trusts (REITs) – are trusts that hold real estate from which they earn rental returns. This provides you with welcome exposure to property. You also have sukuks which are a sharia-compliant alternative to conventional bond products, where holders receive revenue from the underlying assets.
For more information on Sukuk, check out our deep dive here and our fixed income investing guide here.
Lastly, the portfolio is rounded off with exposure to gold and palladium which is used extensively in cars.
Aghaz also promise to review and modify their portfolios at least every 6 months based on a combination of 'fundamental research and data science'.
What the onboarding and user experience was like
Registering via their website was a quick and simple process which directs you to the app. Once you're in the app you are prompted to complete your setup where you are taken through a series of questions which ends up with a recommended investment profile.
However you can still view the other investment profiles and see their asset allocation. You can also see a projected return rate for the investment amount and time period you specified.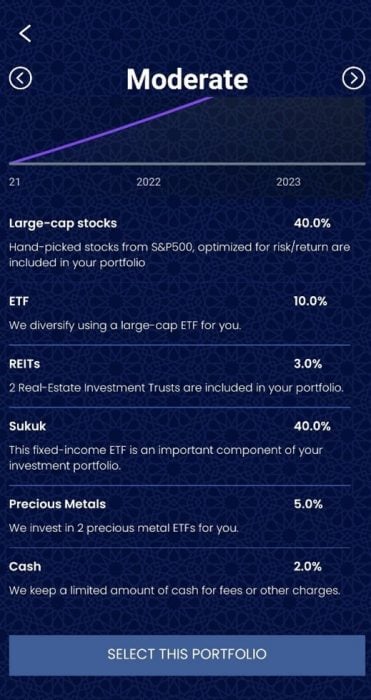 Once you've chosen your investment profile, the next step is to choose your goals if you so desire. They have a really comprehensive range of goals as you can see below. You can even create a custom goal. To try it out, I created a custom goal to save and invest for a Tesla.
Now that's done, you are good to go to add funds to your main investing portfolio or any goals you selected.
The home page will summarise your investing positions. Aghaz also offer some neat additional tools such as a halal US stock screener, a savings calculator, and a zakat calculator.
All in all, the app was crisp and everything is well presented. We should point out though that we were using a test account with limited functionality and weren't able to test everything but initial signs appear to be positive.
When I signed up using my own details to get a feel for the registration process on the website, I had a customer experience specialist directly reach out to me via email which was a nice touch.
What sort of returns can you expect?
Aghaz has five model portfolios based on risk level ranging from conservative to aggressive. They suggest projected annualised returns of:
11.57% for the conservative portfolio
16.98% for moderately conservative
23.38% for moderate
29.26% for moderately aggressive
32.93% for aggressive
These are lofty (but not crazy) projections based on backtesting the results of its portfolio. They have also benefited from a massive bull run in 2020. But as we all know, past performance does not guarantee future reward. So it remains to be seen whether they can hit these targets.
How do they compare with the other players?
DIY
How would you fare if you tried to replicate Aghaz's portfolio by yourself?
US stockbrokers compete heavily on price which means that trade fees are now $0 for a whole range of stockbrokers. This means you could pretty cheaply purchase the investment options provided they are all provided by the stockbroker.
So if you go with Aghaz, you would be paying for them to actively manage the portfolio, the option for direct customer support and overall just saving you the hassle of having to manage so many different investment options.
They will also take care of the sharia screening for any individual stocks they invest in. Ultimately it depends on whether you want to spend time on maintaining your own portfolio or whether you would rather pay for the convenience of someone else managing it for you.
If you do go down the DIY route you should also check out the IFG Fund Replicator. It'll help you generate good quality halal investing stock ideas.
Vs the other robo-advisors
Fees
We summarise the fees charged and minimum deposit requirements by some of the main Islamic robo-advisors in the table below.
Provider
Balance
Minimum deposit
< $100k
≥ $100k
Aghaz
0.49% + $2pm
$1000
Wahed (US)
0.79%
0.49%
$100
Sarwa
0.7- 0.85% *
0.5%
$5
* Sarwa offer a starter account where the management fee for the first year is free. They aren't also available in the USA, but it's a useful comparator still to give you a sense of the market.
Table 1: A comparison of the fees and minimum deposit requirements
Sarwa and Wahed both require a lower minimum deposit than Aghaz (although Aghaz are running a temporary promotion where you can join with a balance as low as $100) so Wahed and Sarwa win here.
In terms of fees, table 2 looks at typical fees for certain account balances.
Account balance
Wahed (US)
Sarwa
Aghaz
$500
$3.95
$4.25
$26.45
$1,000
$7.9
$8.5
$28.9
$5,000
$39.5
$42.5
$48.5
$8,000
$63.2
$68
$63.2
$10,000
$79
$85
$73
$20,000
$158
$170
$122
$50,000
$395
$350
$269
$100,000
$490
$500
$514
$200,000
$980
$1,000
$1,004
Table 2: Fee comparison for different account balances
Aghaz works out to be the cheapest for balances between $8k and $100k. Wahed wins for balances over $100k although to be the fair the difference isn't significant. Lastly, for balances under $8k Wahed again is cheapest, however Sarwa do offer a starter account where the management fee for the first year is free.
Their offerings
Aghaz's investment options do stack up well to the competition. They give you exposure to halal REITS, the commodity Palladium which is mainly used in cars and a handpicked selection of the top 20 halal US stocks. The only negative is the lack of exposure to global equities. Both Sarwa and Wahed give you exposure to companies in emerging markets.
Asset
Aghaz
Wahed
Sarwa
US Equity ETFs
Yes
Yes
Yes
Global Equity ETFs
–
Yes
Yes
Sukuks
Yes
Yes
Yes
Gold
Yes
Yes
Yes
Palladium
Yes
–
–
Halal REITs
Yes
–
–
Top 20 US stocks
Yes
–
–
Table 3: A comparison of the available investment options
Pros and Cons
Pros
Invest in established US funds and individual stocks
They run an in-house investment strategy – so its not just a wrapper for other funds
Able to tailor your investing to specific goals
Exposure to additional assets such as property and palladium
Great customer experience and clean app
More actively managed than competitors
Able to email them and discuss things
Cheaper in fees than Wahed and Sarwa for balances between $8k and $100k
Cons
Are more expensive than DIY fund accounts
More expensive than other Islamic robo-advisors for balances under $8k
Lack of exposure to global stocks
Only available to US investors at the moment
Projected returns are ambitious and only time will reveal whether they will be able to achieve them
Verdict
If hands-on investing isn't for you then Aghaz are a very respectable and solid robo-advisory option. What really stands out from them is the fact that they offer exposure to additional assets (property and a non-gold commodity) that the current Islamic robo-advisors do not. If they start to deliver against their projected returns then they could be a serious player.
You can find out more about Aghaz Invest here*.