No haram in planning ahead
If the majority of your assets are in England or Wales you can take out a standard or trust based islamic will in 20 minutes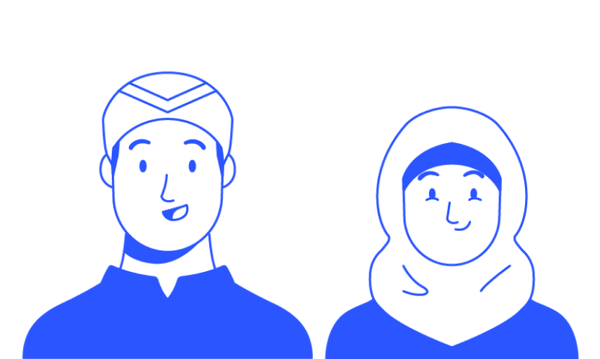 Most people don't have a Will and lose £9,700 as a result
We are on a mission to protect the ummah's wealth.

We help Muslims with their investing journeys and benefit over 100,000 people every month.
But we realised, there's no point us helping the ummah get wealthier if the Muslims give a ton of their assets upon death.
IFG Wills helps to fix this. To date we have helped the ummah save £47.2 million in lost assets and avoidable taxes.
We help you
Save £100k+
Over the last 3 years, we have helped couples avoid £47.2 million in inheritance tax and lost assets. This is not some crazy tax-avoidance scheme. The government literally says on their website that you should get a will to avoid tax.
Family Matters
We help parents and grandparents get their affairs sorted so their kids are properly looked after when they're gone. That includes those kids you're particularly concerned about.
Islamic
Law
We help ensure your estate is distributed according to Islamic law – the last thing you want when you go into the akhirah is for your affairs to be unislamic.
Your Living Islamic Will
We keep your assets automatically updated using our special software that is plugged into live asset data. So every year you can just print off an updated will. (coming in next 6m)
IFG Islamic Will Benefits
Money back guarantee
If you are unhappy with our service for whatever reason we will refund full amount no questions asked. We are that confident about our service after having handled 3000+ wills
Tax shredder
We work closely with a leading tax advisory firm and will review your details to make sure your wealth is tax efficient. If it isn't we will refer you to them, which usually means a saving of several thousand pound
Never work out Zakat again
Our will integrates in with our zakat calculator so this Ramadan you will get an automated zakat calculation based on your assets, saving you a big job every year
Talk to experts
You can book in for a call with us whenever you like
Top partners
Islamic Relief, Muslim Hands, Muslim Aid, Muslim Charity and many other top charities trust our services for their legacy programmes
Personalised Wealth Insights
At the click of a button we will analyse your will data and provide you a personalised report on tips to improve your portfolio.
Answer our carefully-chosen questions in our wills form
We draft your legally-binding will
Simply print & sign the Will and you're all done!
Islamic Will
£98
Refer 3 friends or family members and get your Will for free
Trust Based Will Option
£348
Particularly relevant for those with estates above £325k. See full FAQ below.
Legal & Sharia Experts
TOUCH
Ibrahim Khan
Alim & Lawyer
Ibrahim Khan
Alim & Lawyer
TOUCH
Billal Omarjee
External Mufti Consultant
Billal Omarjee
External Mufti Consultant
What if I die without a Will?
Your assets will be distributed according to English law. This is not sharia-compliant.
Can I make changes to my Will?
Yes, with an IFG Will we have a £10/year subscription that allows you to make unlimited changes. Simply get in touch with our responsive team when you need to make a change.
Where can I read more about Islamic Wills?
We have an
Islamic Wills guide
where you'll find links to all relevant articles we've written.
Read all FAQs
Subscribe to our latest impartial analysis, deals and Islamic financial podcast