WealthSimple: Review of Their Shariah Compliant Option | IFG
In this article, I will explore what WealthSimple is and if their products are indeed halal. Then I will outline who would be best suited to their products as well as identifying some pros and cons.
The executive summary is:
Wealthsimple are an interesting, relatively-cost effective way to invest your money.
Their halal option is indeed halal and they have partnered with trusted sharia-screening providers to offer their service.
Their current halal offering is equities-only, so is relatively more aggressive and doesn't have any fixed income component.
Their halal offering is only available in the USA and Canada at this stage.
Wealthsimple's educational content around investing is excellent.
Who are WealthSimple?
WealthSimple is an online investment management service based in Canada, with two offices in Toronto, an office in New York and another in London.
They pride themselves on providing simple, yet socially responsible investing without the high fees that come along with traditional investment management through utilising cutting-edge technology. In addition, their offerings also include access to expert financial advisors who can help clients better plan towards financial milestones and answer questions on risks and suitable options.
How do WealthSimple work?
Clients who choose WealthSimple have their money invested in a globally diversified and personalised portfolio of low-fee funds designed to meet individual goals. This means your eggs are placed in lots of different baskets; this both reduces risk and maximises the potential returns.
Technology is deployed to invest across the entire stock market using funds that track the global economy. It is also used to solve tedious tasks such as automate rebalancing, dividend reinvesting and tax-loss harvesting. When you sign up for an account which will be personalised according to your needs and personal goals.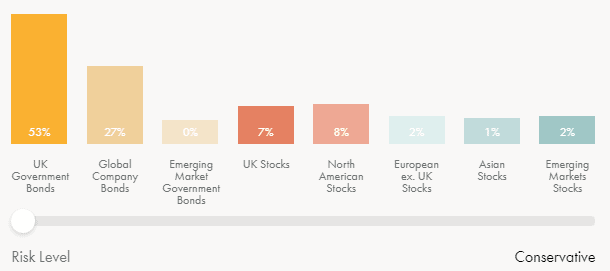 You can choose between a Conservative, Balanced or Growth portfolio depending on how comfortable you are with risk. [1]
Are WealthSimple halal?
WealthSimple introduced the first halal investing portfolio in 2017.
Before we begin, what is halal investing? Unlike typical investment portfolios, the halal classified investments portfolios comply with strict shariah guidelines that are built upon Islamic law – law derived by verses of the Qur'an, the Islamic holy book of Muslims.
This means the prohibition of the consumption, promotion or investment in things such as interest, gambling, weapon manufacturers contributing to unjust wars, alcohol, pork, pornography or anything classified as "haram" by Islamic scholars. The purpose is to allow Muslims the ability to become wealthier just like all investors, but without compromising their ethical Islamic values.
The following stocks are included in WealthSimple's Canadian Halal Investing portfolio[2] :
| | | |
| --- | --- | --- |
| Symbol | Name | Allocation |
| ABB | ABB Ltd. | 2.01 |
| ABT | Abbott Laboratories | 1.94 |
| ABX | Barrick Gold Corp. | 1.35 |
| ADBE | Adobe Inc | 2.78 |
| ADM | Archer Daniels Midland Co. | 1.30 |
| ADP | Automatic Data Processing Inc. | 1.50 |
| APD | Air Products & Chemicals Inc. | 1.18 |
| ASML | New York Shares | 2.75 |
| BABA | Alibaba Group Holding Ltd | 4.39 |
| BHP | BHP Group Limited | 1.14 |
| BP | BP plc | 1.34 |
| CAJ | Canon Inc | 1.54 |
| CERN | Cerner Corp. | 0.95 |
| CHL | China Mobile Limited | 1.10 |
| CNR | Canadian National Railway Co. | 4.57 |
| CRM | Salesforce.Com Inc | 2.12 |
| CSU | Constellation Software Inc | 2.32 |
| CVX | Chevron Corp. | 1.77 |
| EMR | Emerson Electric Co. | 1.50 |
| FNV | Franco-Nevada Corporation | 1.58 |
| GIB.A | CGI Inc (Class A) | 2.20 |
| INTC | Intel Corp. | 2.72 |
| JD | JD.com Inc | 0.80 |
| JNJ | Johnson & Johnson | 4.07 |
| LIN | Linde Plc | 1.92 |
| LUN | Lundin Mining Corp. | 0.88 |
| MDLZ | Mondelez International Inc. (Class A) | 1.92 |
| MDT | Medtronic Plc | 2.01 |
| MG | Magna International Inc. | 2.65 |
| MRK | Merck & Co Inc | 2.74 |
| NKE | Nike, Inc. (Class B) | 1.81 |
| NTR | Nutrien Ltd | 2.50 |
| NVS | Novartis AG | 3.10 |
| PFE | Pfizer Inc. | 2.34 |
| PG | Procter & Gamble Co. | 3.48 |
| PHG | Koninklijke Philips N.V. | 1.58 |
| PKX | Posco | 0.94 |
| PLD | Prologis Inc | 1.12 |
| PPL | Pembina Pipeline Corporation | 0.90 |
| RDS.A | Royal Dutch Shell Plc – ADR (Representing Ordinary Shares – Class A) | 1.86 |
| RIO | Rio Tinto plc | 1.27 |
| SAP | Sap SE | 2.51 |
| SNP | China Petroleum & Chemical Corp | 1.07 |
| SNY | Sanofi | 2.00 |
| SU | Suncor Energy, Inc. | 0.87 |
| TOT | Total SE | 1.20 |
| TRI | Thomson-Reuters Corp | 3.37 |
| TSM | Taiwan Semiconductor Manufacturing | 3.10 |
| WPM | Wheaton Precious Metals Corp | 1.19 |
| XOM | Exxon Mobil Corp. | 2.70 |
The Halal Investment Portfolio consists of 50 carefully chosen companies and investments that comply with Islamic law as shown in the table above. They are a subset of the MSCI ACWI Islamic Index[3]. As equity is more volatile than fixed income, the Halal Investing portfolio is offered at a higher risk Growth category.
Conservative and Balanced portfolios are not offered as WealthSimple's other portfolios use fixed income (bonds) to lower the overall risk. Islamic investing principles do not allow interest-bearing bonds, so the Halal Investing portfolio is an all-equity portfolio.
WealthSimple has collaborated with MSCI sharia advisors' committee of sharia scholars to develop the Islamic Index Methodology[5] which is used to select funds suitable for the Halal Investment portfolio. MSCI selects the 50 stocks from the ACWI index to replicate the characteristics of the index.
Who is WealthSimple's Halal Investment Portfolio for?
First it must be made clear that the Halal Investment Portfolio is only available in Canada and the US. Support for availability to be made in the UK is underway and it is hoped to have one here soon.
Wealthsimple's long-term target will be wealthy individuals who have some large amounts of capital ready to invest. However their user base and marketing seems to appeal more to millennials or generation-Y – those who have les idea about investing, have a very small amount of capital or have just started their long-term jobs.
The Halal Investment Portfolio is designed for individuals comfortable with a medium to high risk tolerance which would be a sensible strategy for younger people early in their career. This is because they have enough time in their life to smooth out short-term drops.
WealthSimple do also offer a Responsible Investing portfolio that invests in ethical assets. This however is not sharia-compliant.
WealthSimple Pros
Affordable fees that are competitive with the market.
Free unbiased advice from finance experts.
Free investing learning resources.

I completed the Investing Master Class just to see what it's about. It's a series of short videos taking around 30 minutes. It's full of useful tips and would be handy for those starting out in investing.

No additional fees for Halal Investment portfolio.
Like WealthSimple's other portfolios, Halal Investment portfolio uses the passive investing strategy.
Dividend Purification. Dividend Purification shows on client's monthly and annual statements. Each security in the Halal Investment portfolio has a dividend adjustment factor. WealthSimple calculates the portion of the dividend which gets donated.
Portfolio rebalancing is done automatically similar to WealthSimple's other portfolios in response to price changes.
Wealthsimple Cons
Halal Investment portfolio does not use bonds. It is an all-equity portfolio. So it doesn't have the diversification of the mainstream Wealthsimple portfolios.
You don't get the degree of diversification offered by investing directly into an Islamic fund via a stockbroker. They would typically hold over 100 stocks in their portfolios while WealthSimple hold 50. However WealthSimple's fees are also a little cheaper or the same on average.
Conclusion
In conclusion, I think that WealthSimple is certainly getting to know the market and their customers better than most traditional investment providers.
The benefits of the Halal Investment Portfolio resemble much of the other products offered by WealthSimple for non-Muslim customers such as portfolio diversification, low-cost funds, automatic rebalancing, dividend purification, similar fees and free access to advisors and educational resources. T
The main drawbacks of the Halal portfolio though are the inability to select different risk-weightings, or have exposure to fixed-income.
Perhaps a clever way to use WealthSimple would be to use its offering as your "equity" bit of your portfolio, and then get your fixed-income element by investing elsewhere.
By: Nazaqat Mohammed
Naz is a Muslim, Pakistani-British creative web developer, and digital designer. He graduated from the University of Leicester in 2018 with a Bachelor of Science in Computer Science and has been working in IT consulting since. Lately he has taken a break from his corporate career to focus on his other passions and areas of interest. 
[1] https://www.wealthsimple.com/en-gb/product/invest, 25/08/2020.
[2] https://help.wealthsimple.com/hc/en-ca/articles/115011786167-What-stocks-are-included-in-the-Halal-Investing-portfolio-, 25/08/2020.
[3] https://www.msci.com/documents/10199/73d7da67-80d8-4c80-a0df-26c1e6f14bb0#:~:text=The%20MSCI%20ACWI%20Islamic%20Index,are%20relevant%20for%20Islamic%20investors., 26/08/2020.
[5] https://www.msci.com/eqb/methodology/meth_docs/MSCI_April15_Islamic_Indexes_Methodology.pdf, 25/08/2020.