How to become the Queen (or King) of investing this jubilee
Caroline Craker
Head of Product
As the Queen's platinum jubilee nears we felt like the best way we could commemorate her 70 years of service would be doing a deep dive into her portfolio to see what it takes to get a portfolio fit for a queen.
What is the size of Queen Elizabeth's portfolio?
Well unsurprisingly, the Queen has a pretty sizeable portfolio valued anywhere between £370m and £580 million. This makes
her the 329th richest person in Britain according to The Times Rich List.
What does her portfolio look like?
We delved into data around her assets and here's what we found: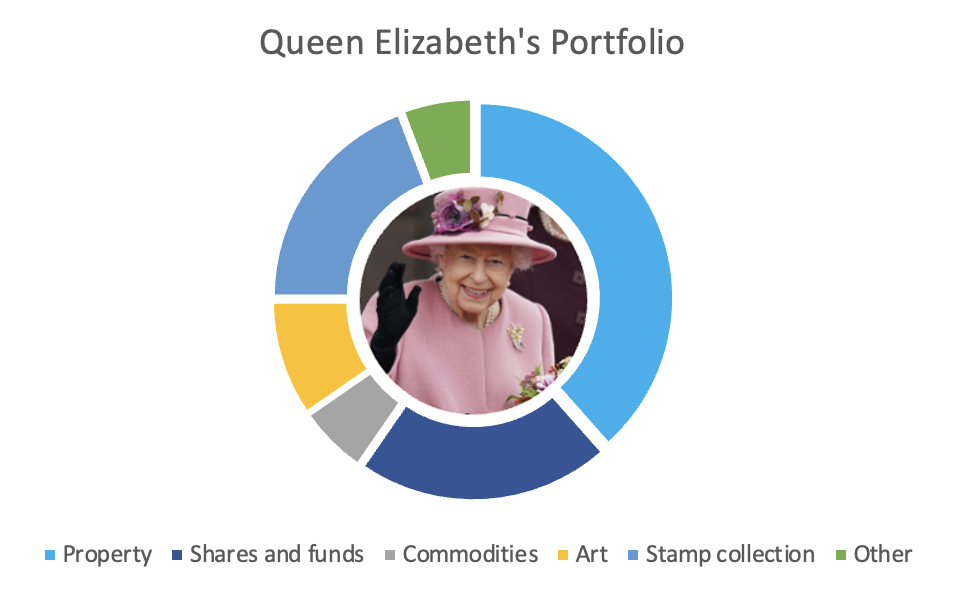 Property




The queens property portfolio is

worth £200m, and

includes Balmoral Castle (£120 million) and the Sandringham estate (£50 million), fruit and stud farms and marine land across the UK.

Shares and funds


The queen's stocks and shared portfolio is valued at around £110m and is invested largely in blue chip companies. The value increased by £5million alone in 2021!

Commodities


The queen's personal collection of jewellery is worth a hefty £30 million. It includes tiaras, brooches, and many pieces you have seen worn by members of the royal family – including Megan Markle's famous wedding tiara.

Art


The Queen inherited art from her mother who was an avid collector and also possesses a number of her own personal pieces. Many of them feature as part of The Royal Collection featured in galleries across the world including British Museum, The National Gallery, the Victoria and Albert Museum.

Stamp Collection


The Queen owns the Royal Philatelic Collection, which is valued at £100 million and is composed of UK and Commonwealth stamps.

Other


When she isn't travelling around in the royal carriage, the queen has a number of cars (a Range Rover and Bentley to name a few) and let's be honest – there has to be some cash sitting around, but the amount is undisclosed.
What about Buckingham Palace and the Crown?
These famous assets are in fact owned by The Crown Estate. This is an independent commercial business, created by Parliament to manage some of the UK's most important assets. It is owned by the monarch through their duration, but is not private property and cannot be sold by the monarch.
The property within the Crown Estate's portfolio is worth an eye watering £14.1billion and the art collection – over £4million (it contains over 7,000 paintings, 30,000 watercolors and drawings, 500,000 prints). The estate also owns the famous Crown Jewels which have never been valued, but just the crown alone has 2,868 diamonds, 17 sapphires, 11 emeralds, 269 pearls and 4 rubies!
IFG's review…
Overall this is a nicely diverse portfolio. At 97, the queen's appetite for risk will be low and this is reflected in the asset classes she has which are all relatively stable. A lot of these assets have been held for a long term which is what we would recommend to see returns (over 10 years). We would recommend anyone who doesn't have her level of security to be aware of the risks of theft holding significant amounts of physical jewellery/ gold/ commodities.
One thing we note is that the Queen's exposure to private equity and venture capital is extremely low, with the Duchy of Lancaster reporting around £2-3m invested there. Historically, there were some negative stories about the Queen in the press following the Paradise Papers leak. Even at that time the Queen's exposure was negligible and indirect (via a fund of funds strategy).
There are likely political reasons why the Queen does not invest in private equity and venture capital as a result, but this would be an obvious area that a portfolio of her size should have some exposure to. Large endowments often end up allocating up to 35% of their portfolios to these asset classes given their long-term (uncorrelated) outperformance of the stock market.
Is the Queen's portfolio halal?
A number of assets within the portfolio are in fact Halal – this includes her property (which, unsurprisingly, is relatively un-mortgaged) , commodities and jewellery. Some of the shares/funds and art will also be halal.
However we were able to find some shares and funds which were not Halal due to the nature of the business for example a holding in Threshers off-licence. Alcohol is just one of many industries that are prohibited by Sharia Law – others include gambling, weapons manufacturing, pork products. Many mainstream funds will contain stocks in these industries which is why we recommend sharia funds.
Some of the paintings within the art collection do contain nudity and would therefore also be considered haram.
How can you get a portfolio the size of the queen's?
To amass this amount of wealth unfortunately there's only a few options:
Be an entrepreneur

Inherit big

Win the lottery multiple times
You can see how you stack up against the queen and get some personal tips to catch her up with our jubilee encrusted insights tool.
Alternatively compare halal investments with our compare tool to see how you can diversify your portfolio more like Queen Elizabeth's.