CrowdToLive Review | Halal Property Purchase & Investment Platform – IslamicFinanceGuru
31 May 2022 - 10 min read
There are two great ways to invest your money – in property or though crowdfunding. But only if there was a way to do both? Luckily for you, CrowdToLive* has done just that, by combining these and providing investors with a way to diversify their portfolio in bricks and mortar.
CrowdToLive is a low-cost sharia-compliant property crowdfunding platform that connects investors to those wanting to get on the property ladder. If you are looking to get onto the property ladder then check out their offering to you here.
In this article, we'll discuss:
What is crowdfunding
What is shared ownership
What is CrowdToLive
What they offer investors
CrowdToLive v traditional shared ownership
CrowdToLive v Buy to Let
Who runs CrowdToLive
Pros and Cons
How to invest
Is this model sustainable? Final thoughts
We're briefly going to go over some basics before we dive into our analysis – just so we're all on the same page.
1. What is crowdfunding
Crowdfunding is a public way of raising money from many people for a specific goal. This is mainly done online and especially through crowdfunding websites. Once all the money is pooled together, the capital is used to finance the project or goal.
CrowdToLive does exactly this when they are raising funds to purchase a property (more on that later).
We have a detailed article on crowdfunding here, including a list of platforms on which you can invest.
2. What is shared ownership
Many people can't afford to buy a home on the open market. It's an expensive commitment.
CrowdToLive is one of the alternative solutions, which uses a shared ownership model when it purchases a property. However, it's slightly different from the traditional model discussed below – we'll explain it in more detail. CrowdToLive purchase the property under the Musharakah structure.
A shared ownership scheme means you buy a share of a property and pay rent to an organisation for the remaining share. For/not-for-profit organisations and the government offer these type of ownership schemes.
This is a great option for those on a low income, little capital or no help from The Bank of Mum and Dad.
Shared ownership is one of the many alternatives to a mortgage that you can read about here. It is also unambiguously and unanimously seen as a halal way to buy a property (and to invest).
Now we all understand the basics, let's dive in.
3. What is CrowdToLive
CrowdToLive is a property crowdfunding platform that connects a Champion (the person that wants to raise equity financing) to a pool of investors, enabling them to join together and purchase a property.
You can either chose to be a Champion if you're seeing to raise finance or be an investor to seek profitable returns.
Champions will reach out to CrowdToLive, who will advertise projects to potential investors. Once the investment fulfils its goals, CrowdToLive then provides:
the Champion debt-free and interest-free equity financing; and
The investors will realise their investments through dividends or capital appreciation.
In this article, we'll focus more on the investing side, which is explained next.
4. What they offer investors
They offer high net worth and sophisticated investors a long-term investment opportunity in purchasing a property through a sharia shared ownership scheme. The minimum investment is only £100. They provide a range of properties to invest in, some of which you can see below.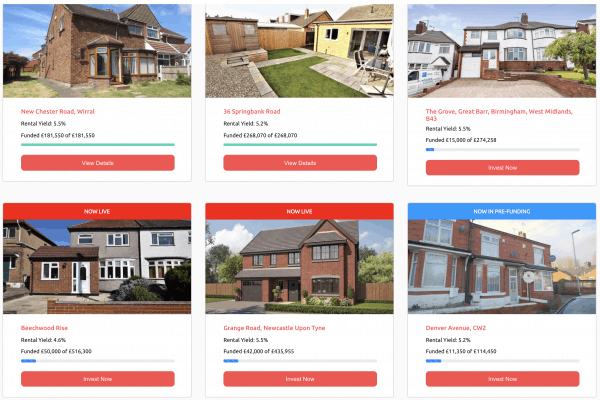 As you'll see, there's a range of properties and yields. The properties also have a short bio of the tenant, so you know exactly who'll be living there.
The yields are what you'd expect o average on a BTL. Although if you do it yourself, you can find higher yields of 10% or more. You can find these areas in our article – The Best Places to Buy A Buy-To-Let In 2021. (caveat: It's not easy to do yourself.)
On CrowdToLive on the other hand it is very much hands-off. You can buy properties and manage your money through their analytics dashboard, making it easy to track your money.
How the investment is structured
You buy unlisted shares in a company. This is how it works:
First, you choose an investment you like, which they advertise on their website. You then choose how much you'll like to commit. The minimum is £100 per property.
A limited liability company will be incorporated to purchase the property. So, you will be investing in a company with unlisted shares (i.e., shares you can't buy on an exchange). The company will raise money by issuing these shares. Your shares will be registered via Companies House.
One it has raised enough money; the company will purchase the property with a Champion – so both of them will own it. Your shares in the company will give you indirect shared ownership in the property and allows you to receive dividends once the company is profitable. You could also benefit from capital appreciation.
How you get returns
There are two ways your investment can get a return:
Dividends; or
Capital appreciation.
As we mentioned, the company must raise money and invest in a property with a Champion. The minimum investment starts at £5,000.
This money raised will be used to buy a property. The property will be rented out to the Champion will be pay rent. Any profit from the rent (i.e., after company expenses and taxes) will be distributed as a dividend by the company.
Rent will increase yearly at each annual anniversary of the lease by the rate of inflation.
Furthermore, you could potentially benefit from the capital appreciation of the property. Therefore, you could sell your shares at a higher price than you bought them for. However, it may not be easy to sell your shares as they are unlisted. Therefore, you'll have to find a buyer yourself.
You can reduce your investment risk by diversifying in several properties in different locations. This has the additional benefit of diversifying your portfolio.
Fees
A platform fee is payable and there is 3% payable upfront.
This will be charged to investors on a successful investment.
However, if you invest in a property that does not complete for whatever reason, no fees will be charged.
Maturity
The maturity of the initial investment is 5 years but can be renewed with the consent of the majority investor. As long as the Champion is paying the rent, the property cannot be sold. However, you can sell your shares whenever you like, if you can find a buyer.
The Champion has the option, but not the obligation, to buy investors shares to increase his homeownership.
Taxes
You'll of course be responsible for your own taxes. Each company you invest in will be liable to pay corporation tax and any returns you receive will be paid to you net of any corporation tax due.
5. How it differs from traditional shared ownership
CrowdToLive purchases the property under the Musharakah structure and there are some notable differences from the traditional shared ownership model. They have handily summarised this in the graphic below:
A key difference is that a shared ownership scheme has a limited chose of properties to purchase. In contrast, CrowdToLive allows you to choose any house on the market.
The minimum share is a big one too – the Champion only needs to invest 5% of the purchase price rather than 25%.
6. CrowdToLive v Buy to Let
CrowdToLive believe they offer an efficient alternative to Buy to Let. They argue this for three reasons:
The Champion is incentivised to pay rent as if they don't, this will be deducted from their investment upon the sale of the property. This mitigates risks for investors as Champions would of course not want that.
You only need £100 to invest.
Because the Champion is also an investor, this lowers the fees involved in finding a tenant and maintaining the property.
However, the advantages of a BTL are:
You're the only decision-maker. Here you have very little control.
You do not have to pay any fees to a company operating the investment.
7. Who runs CrowdToLive
CrowdToLive is operated & owned by Elite Capital and Management Services Limited. The founding team have a long background in Islamic banking both in the UK and abroad, and they are an FCA-regulated company.
8. Pros and Cons
Let's have a look at the good and bad.
Pros
FCA regulated. This means there are certain safeguards on your investments. Do read the fine print though like for any investment.
Good returns – I saw yields of up to 5.5%.
It's Halal – completely Islamic and you're helping someone get on the property ladder.
They conduct due diligence on each person who wants to raise finance, including an affordability test.
Each property also has due diligence, including being valued using a surveyor and a solicitor that will do the conveyancing.
A good way to diversify your portfolio into bricks-and-mortar.
Add a long-term investment to your portfolio.
Only £100 to get started and investing in property. Compare this to Godwin where the minimum amount is £5,000.
You can diversify in different properties and diversify the risk, so you're not relying on one investment property.
A hands-off approach to investing. The company will control everything and pay you if there are profits. You just have to make sure you pay any taxes due.
Cons
Although they are FCA regulated, there is no protection from the Financial Services Compensation Scheme (FSCS). In terms of your investment, you won't have the option to claim compensated of up to £85,000 against the company if it failed.
Not designed for short-term investing – this of course matters on your preference, objectives, portfolio, etc.
Lack of liquidity – related to the above point, it's difficult to sell your shares so you're somewhat locked in.
Variable or lack of dividends – If property rental income is received, it will be paid to investors as a dividend net of any fees, costs and expenses. However, if a property does not produce rental income or if the rental income is insufficient to cover the costs and expenses of operating the property, then no dividends will be paid. We wouldn't expect this happen in practice unless the Champion stops paying rent for some reason.
Taxes – you'll be responsible for any income tax or CGT. Each company you invest in will be liable to pay corporation tax and any returns you receive will be paid to you net of any corporation tax due.
Limited control – although the company taking full control can be a good thing, you cannot do as much if things go wrong.
9. How to invest and requirements
You can invest through their website here.
10. Is this model sustainable? Final thoughts
Housing is a massive issue here in the UK. I've highlighted a few below that makes me think CrowdToLive have a promising future:
It's really expensive to buy a house. As of November 2020, the average house price in the UK is £249,633 and risen by 7.6% compared to the previous year, according to the latest data from the Land Registry.
There's been a decrease in homes in the UK market in 2021 – meaning there are fewer people selling, leaving a smaller pool of options for potential buyers.
The government has a target of building 300k homes a year by the mid-2020s. However, over the past 10 years, they've only hit 118,100 a year. Furthermore, the population has grown by over 4 million.
According to Savills, there is a strong link between housing delivery and affordability. The areas that aren't meeting demand are contributing to homes becoming less affordable.
What I like about CrowdToLive is that it really does help to answer some of the big issues. It obviously won't find a solution to the building problem and lack of supply, but the fact that you can get on the property ladder with just a 5% deposit really does open doors for many people.
You could argue that their offering is better than the government's Help to Buy scheme, as that is only available to purchase new builds and requires you to take out a mortgage. This clearly won't be practical for some who want a different type of property and do not want a mortgage.
The UK market currently hosts more than 40 property crowdfunding platforms, out of which 10 have been founded within the past three years. Clearly, this is a growing area and competition will increase.
Ultimately though, CrowdToLive will need to find deep institutional lines of capital in order to significantly scale their business. That's just the way it is with property. We hope they succeed in this endeavour inshAllah.
Conclusion
It is key that an investor has some fixed return products to diversify their portfolio. CrowdToLive is certainly one to consider.
The platform is designed for anyone that wants the benefits of being a landlord without all the work. It requires only £100 to get started and you're making money whilst helping someone who can't afford a home get on the property ladder. Most importantly, not only is it ethical, but it's also completely Islamic.
For other fixed income investing ideas – check our full Halal Fixed Income Investing 101 Guide.
If you enjoyed this article, you can follow me on Twitter or LinkedIn.